We did "
Rockin' the Bump
," now it's time for "Rockin' the Baby!" Shell over at "
Things I Can't Say
" is continuing the fun where we can remember our Tikes when they were babies.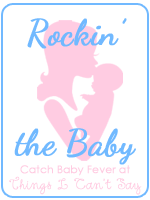 I am amazed that Zoey will be two next month! Where did the time go? It is getting harder and harder to remember those first few months and all the baby pictures I took brought back so many wonderful memories. Zoey has been the best little girl I could ever ask for.
Stephen and Zoey on the day she was born, August 18, 2009.
Our family picture just before taking her home from the hospital. To this day, this is my favorite family picture of us from when she was born.
I love sleeping pictures. Zoey is about a two weeks old in this one.
Zoey at 3 months. I miss the days when we could have mini photo shoots and she would actually sit still.
Zoey's First Christmas! She was about 4 months old and so into it!
And this is Zoey now...almost two.
Zoey brings such a joy to our lives and to the lives of anyone she meets. She even makes sure the pizza delivery guy gets a good thank you and bye bye. "Zoey" means "life" and she lives it too the fullest! She is not afraid of much if anything. She wakes up ready to go and is curious about everything. She loves to cook and we greatly enjoy playing outside. She is incredibly smart and loves to figure out how things work. I realize I've been gushing a lot about Zoey lately, but she's my little girl and I love her. I think she is amazing and I'm so proud of her in every way possible.