Psalms 103:8 -- "The Lord is compassionate and merciful, slow to get angry and filled with unfailing love."
We talk about the term "Christ-like often. But what does it mean? Simply it means to act like Christ, to strive to walk in God's will and live a sinless life. We know, being imperfect humans, that is impossible. However, that does not mean we can't strive to be better today than we were yesterday and better tomorrow than we were today.
To become "Christ-like" it is important to know who Christ is and what God's character is like. This is accomplished through bible study, prayer and fellowship with other Christians, who in theory are also trying to be Christ-like, to help you in your journey.
Psalms 103:8 says that the Lord is compassionate, merciful, slow to get angry and filled with unfailing love. 1 Corinthians 13:4-7 repeat many of these qualities.
1 Corinthians 13:4-7 -- "Love is patient and kind. Love is not jealous or boastful or proud or rude. It does not demand its own way. It is not irritable, and it keeps no record of being wronged. It does not rejoice about injustice but rejoices whenever the truth wins out. Love never gives up, never loses faith, is always hopeful, and endures through every circumstance."
These are what we have come to call the "Be Attitudes" which describe "agape," unconditional love. It is what we strive for. It is what God has for us. Becoming "Christ-like" has to do with keeping God as the focus of our life. It also has a lot to do with how we treat others. God calls us to life others up, not tear them down.
Are you compassionate? Merciful? Slow to get angry? Filled with unfailing love? If you are like me some days the answer is yes and other days give a resounding no. Thankfully, the Lord is all of those things everyday and He is not done working with me yet.
Linking up with: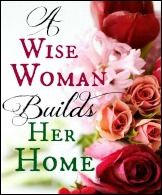 border="0" alt="Wise-Woman-Builds "/>